Dates:
October 25, 2019 - October 27, 2019
Location:
ExCeL London
One Western Gateway
Royal Victoria Dock
London E16 1XL
MCM Comic Con is THE destination event to celebrate all things pop-culture, it is not to be missed by any geek, nerd, cosplayer, or fan boy and girl!
FBF Special Events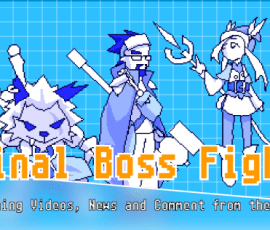 Final Boss Fight Panel
What:
Join John and Geoff from Final Boss Fight as they discuss the games that they have been playing recently, the past, present and future of the Final Boss Fight community and take questions from the audience!
When:
Friday 25th 13:30 - 14:15
QueenCreeps Panel #1
When:
Friday 25th 16:40 -
Final Boss Fight - Live Dungeons and Dragons Game
What:
Join John as he takes a group of heroes on a journey in a world of swords and sorcery, as mighty heroes take on hideous monsters in a quest to save the world... or doom it to oblivion. Join us for an action-packed game of Dungeons and Dragons live on The Studio stage.
When:
Saturday 26th 17:30 - 19:00
Related Galleries
We are likely to take photos at the event so watch this space.