I've been to MCM London Comic Con a few times – each time I was only able to go on the Saturday and stay there for a few hours, but it was generally enough to get to meet my favourite actors – Chris Barrie, Peter Davison, Robert Lewellyn (spot the theme here?). At the end of October, though, I had the chance to attend both on the Friday and the Saturday. Not only that, I had the fantastic opportunity of going as part of Final Boss Fight. That's right, we had a stand at the event, complete with a panel on stage.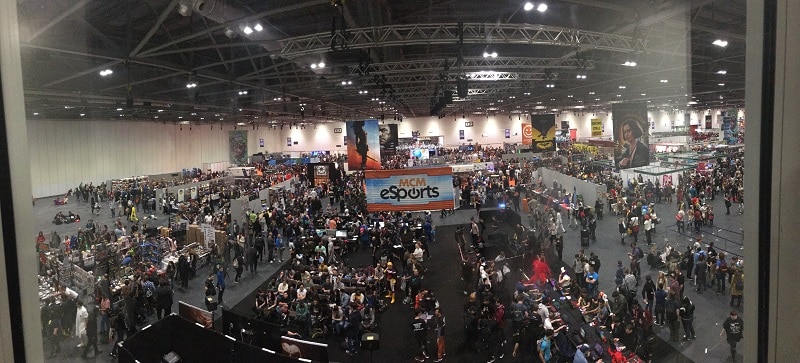 I have to say, it's a completely different experience at a stand than walking around as a visitor. There are some drawbacks obviously – you are limited in the time you have to actually see the event, particularly when it comes to queueing to meet stars, actors and other celebrities or joining in with live demos of board games and video games – but there are some major benefits as well. For one thing you have a place you can sit down and leave your bags, and as someone who is used to lugging massive bags of stuff around the venue that is a welcome change. For another, it's a fantastic way to meet new people as visitors to the stand will already have some interest in what you have to say.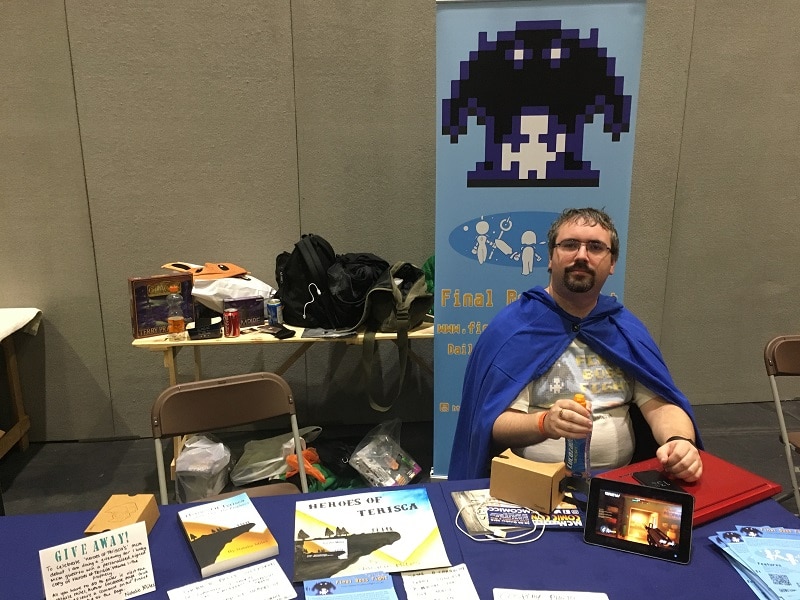 It was also a great opportunity for networking with other exhibitors. I want to take this opportunity to mention our neighbours in Vidfest UK – London Small Youtubers and Tiny Knight Films. If you guys are reading this you really helped us out and made us welcome – we really appreciate it. I don't think the weekend would have been the same without you! Also in the Vidfest UK area was the actor Andrew Lee Potts, who I absolutely loved in Primeval. I managed to get an autograph on my Series 1 DVD cover and my photo taken with him. Although I didn't go on behalf of Final Boss Fight, John later gave him one of our flyers, so you never know, he may stop by and visit our site and channel. If you do Andrew, it's great to see you!
There were plenty of other famous names at the event – Troy Baker, Nolan North, some people from Game of Thrones – and I would have loved to have met them all. As it happened, I was only able to meet two or three of them. Namely Danny John Jules from Red Dwarf, Sylvester McCoy from Doctor Who, and Jamie Bamber from Battlestar Galactica. Fortunately the queues weren't too bad for them and I managed to see them quite quickly, leaving more time to man the stand and also to queue for what was for me personally the main event.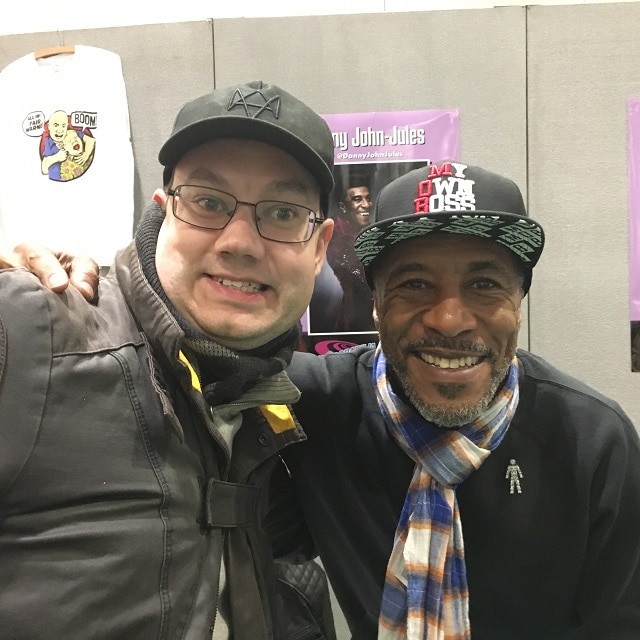 You see, one of the main reasons for me coming to MCM on this occasion – aside from the Final Boss Fight stand – was the chance to meet people from Rooster Teeth. Excitement on the internet had been building over the past few weeks with announcements that the main cast of RWBY – Barbara Dunkelman, Lindsay Jones, Kara Eberle and Arryn Zech – as well as Jack Patillo and Geoff Ramsey from Achievement Hunter – would be present. Being able to meet them – or indeed any of the people from Rooster Teeth – has been a long-standing dream of mine and I was happy to get the chance to finally fulfil it. Every one of them was amazing and really nice to talk to – even Geoff – and they all said I looked very dapper in my long coat, top hat and cane. I'm still feeling the tingles even now.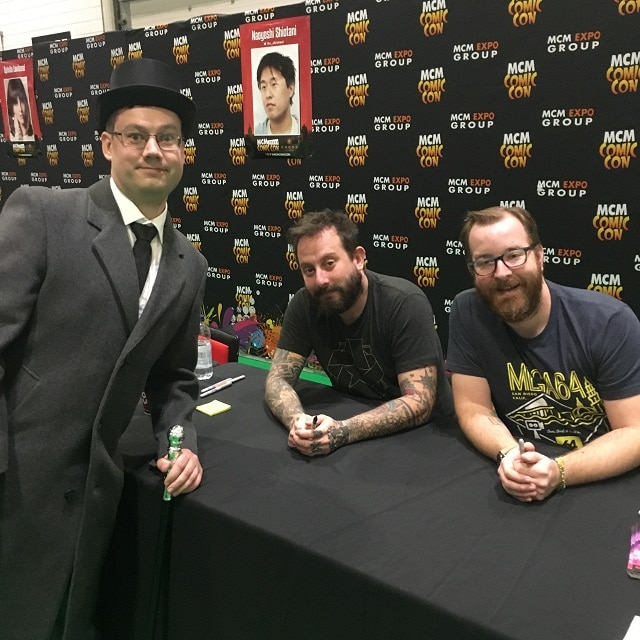 I do also need to talk about our panel. It was an amazing experience. We were a bit apprehensive at first that no one would want to sit and listen to us, but there were a number of people there. We debuted our new channel trailer and gave a brief history and overview of Final Boss Fight – interspersed with a few short clips of Destiny and Grand Theft Auto. We got a few laughs and applause and even a couple of good questions about how we make our videos and what sort of games we like. It was great to feel that sort of energy and I hope we get the chance to do it again. We didn't manage to get any pictures from the panel but I went to the Rooster Teeth panel with Jack and Geoff beforehand and got a couple of pictures from that so they will have to do instead.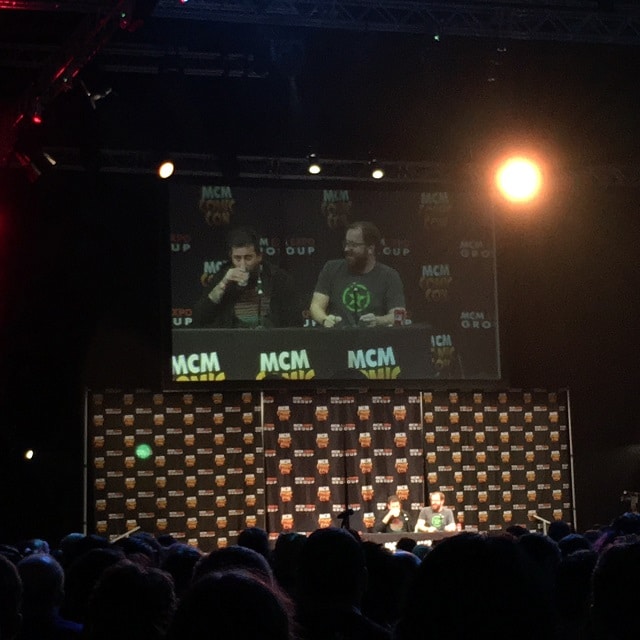 So, to sum up, this MCM has been the best that I've ever been to. Being able to go for two days – Friday and Saturday – really made a huge difference to my experience, even more so with my weekend priority wristband that allowed me to skip the long entry queues on the Saturday! Meeting actors whose work I admired and members of one of the greatest internet media companies in the world was amazing and I will carry the memories for a long time. But most of all being there as part of something – as part of Final Boss fight – and seeing all the work we'd put into the site and channel come together like this was definitely something I'd love to do again if I get the chance. Thanks for organising everything John!