I'm sure we're all familiar with the Master Chief. The hero of the Halo series. A one-man unstoppable force who has mown down armies of aliens, parasites and ancient AIs. He has single-handedly stopped not just one, but four major threats to the survival of the human race. His iconic MJOLNIR armour, protecting him against vacuum, deep water, energy blasts and bullets, is instantly recognisable. Who wouldn't want to put it on and carve a path of destruction through the universe?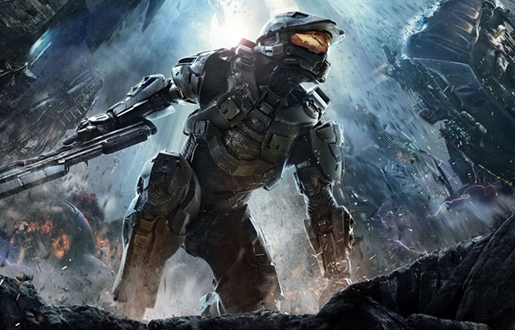 Recently, I joined my fellow FBF-ers in a Halo 5 multiplayer match. This was the first time I'd ever played an online match in any Halo game, but I wasn't too worried – I'd done reasonably well in Destiny, Star Wars Battlefront, and I even got some nice kills in the Overwatch beta previously. Plus, I had complete trust in my armour and weapons. I wasn't afraid at all. After all, I am a Spartan. Intense combat is where I live.
We assembled our team, and I took the opportunity to look over the options available to me. I had a few REQ packs to open, and I was pleased to find a variety of mean looking vehicles and weapons. I also experimented with armour types and colours, at one point painting my Spartan in a garish pink and green colour scheme before sanity took over and I chose a suitably business-like black with dark grey highlights. I was however stuck with the blue visor. Then it was time to find a game.
We decided to have a go at the new Warzone: Turbo multiplayer mode, in which two teams of players would try to capture each other's buildings to score points. Long story short, it went poorly. We joined the Blue team – which overrode our own colour choices with a uniform blue colour – and we were pitted against a team of Red Spartans. With the sound of Blood Gulch Blues running through my head we went into battle. And died almost immediately.
You see, there is one issue with not having played a game like this before – everyone else is so much better at it than you are and have access to much better equipment. My assault rifle and battle rifle – which once held so much promise – turned out to be about as effective as pea shooters against tank plating. My armour, so invincible and reliable, turned out to be made of paper as I died over and over again from only a couple of shots, while I was only able to chip away at enemy shields.
There were other objectives in the matches besides kicking the living daylights out of each other. From time to time various Covenant and Promethean forces would arrive, giving bonus points to the teams that eliminated them. And here was probably where I was the most effective. I managed to get credit for killing two or three bosses, only to get hosed down straight away by the other team who were using high end weapons like Spartan lasers.
I even tried using vehicles such as the mighty Scorpion tank. Even that lasted mere moments before crumbling under firepower that I wouldn't have thought would scratch it. We found ourselves losing buildings quickly and our attempts to retake them were almost entirely ineffectual. We did manage to claw some territory back but we lost it just as fast. There were some points where we spawned in our bases only to die immediately as the Red team had gained entry. It wasn't pretty.
We muddled on for a few games but it was pretty clear we weren't going to make much impact in the multiplayer world of Halo 5. We did manage to record our exploits so you can watch the full horror – or comedy as you may find – for yourselves in the upcoming weeks. As we dragged ourselves bruised and battered to the main menu screen we all took stock of the lessons we had learned. And we agreed that we would never speak of this again.